This is a continuing guest series by Ines, of the forthcoming blog Whisked & Whipped.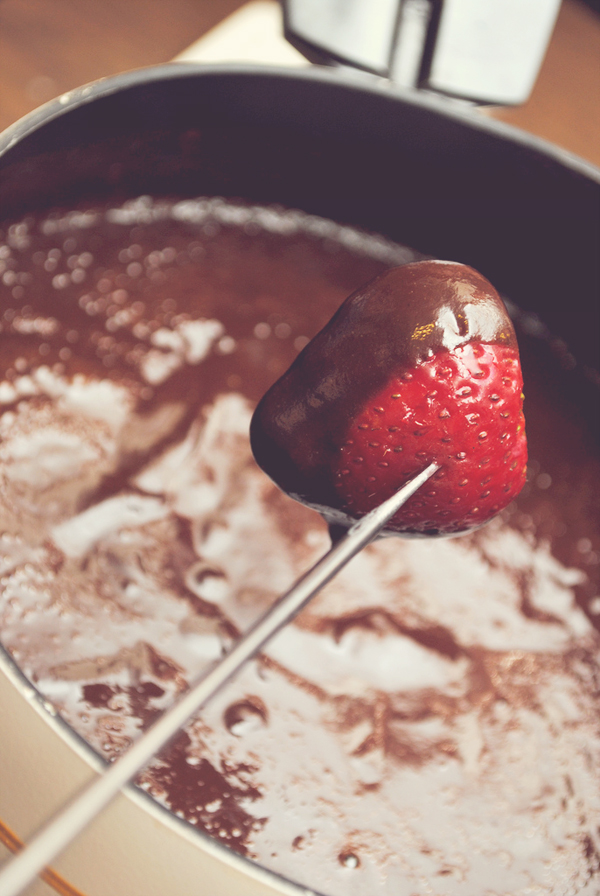 For most, the best part of Valentine's day is the romance. The flowers. The gift. But for me it's the chocolate. In honor of this special day I am sharing a decadent and as always easy recipe for Chocolate Fondue. This recipe serves two and enough leftover for the other "dessert" you might be having. You will need:
10 ounces of dark semi-sweet, good quality chocolate
1 cup of heavy cream
Your favorite things to dip, such as strawberries, bananas, pound cake, or your date (more about that later)
Fondue skewers or small wooden kabob skewers (forks work just as well)
Small crock pot, fondue pot, or deep bowl
A soft paintbrush (optional)
Before heating chocolate, cut all dipping items to bite size pieces.
Chop chocolate into 1/2 inch pieces.
In a microwave safe bowl add chopped chocolate and 1/2 cup of heavy cream.
Place in microwave and cook for 20 second intervals stirring in between each interval adding small amounts of remaining heavy cream until chocolate is melted and smooth.
Transfer chocolate to a fondue pot or a small crock pot set to Warm. If you don't own one it can be served in a deep bowl. Remember, chocolate cools quickly, so have everything set up to serve immediately. If chocolate cools just microwave for 10 seconds and stir.
Some of my favorites for dipping:
Plain or graham cracker encrusted marshmallows (Just moisten the marshmallows and roll in graham cracker crumbs.)
Cheesecake cut into bite size pieces (refrigerate until ready to serve)
Mini brownies or brownie bites
Pound cake
* You can get crafty and use a small heart shaped cookie cutter on any of the cakes.
After you've had your fill of delicious treats and the chocolate has cooled slightly, grab your date and remaining chocolate for some painting. I am sure you can figure out what to use as a canvas…
Note: I used a mixture of dark semisweet chocolate and Valrhona bittersweet chocolate. Though Valrhona bittersweet is my favorite, its robust flavor easily overpowers the fruits and cakes, so I prefer a mixture.
Happy Valentines Day!
photo ᔥ dalboz via flickr edited by ms. jenn