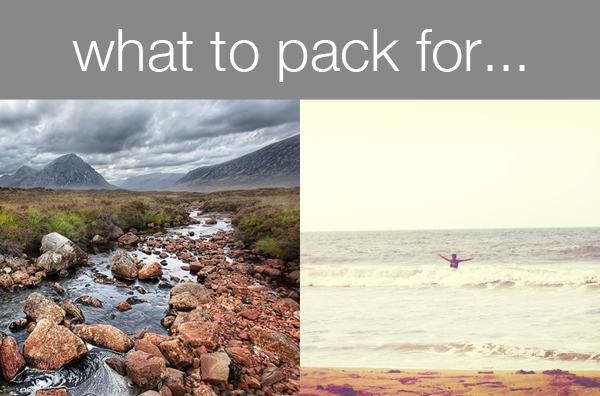 I love to travel, but I hate to carry luggage. In fact, I haven't checked luggage in 10 years! I'm not looking to break that streak any time soon. I've learned how to pack smart and get the most out of my little carry-on and personal bag.
I usually wear a tee, cardi, jeans, and ballet flats on the plane, which helps remove some bulk from my carry-on. Shoulder bags are an absolute must. I slip a clutch into my shoulder bag with my travel docs, iPhone, and wallet, which saves space and keeps me organized. If I'm bringing my laptop, it goes into my shoulder bag, too. I top that off with a blanket.
Now for the carry-on luggage. Here's an example of what I pack beyond toiletries & undies for two different trips.
What to Pack: Town & Country Cool Weather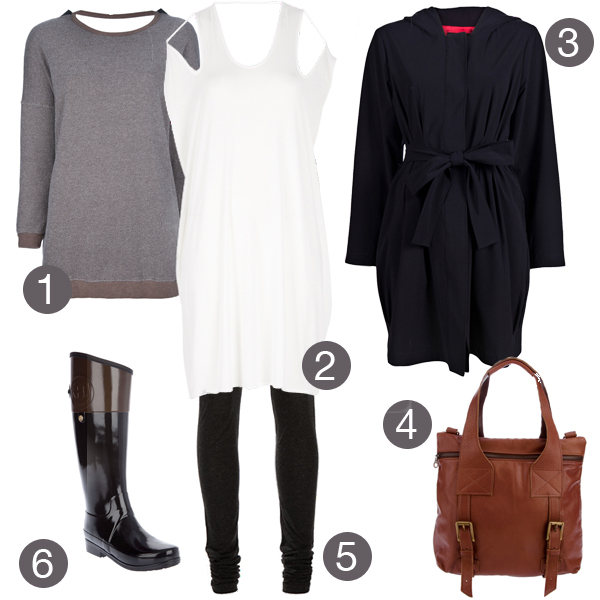 1. Madson X-back Sweater $96
2. DSTM Split Shoulder $115
3. Lila Getty Waterproof Hooded Trench $426
4. Jas M.B. Buckle Bag $487
5. Won Hundred Legging $71
6. Hunter Regent Carlyle $239
DSTM's split shoulder tee is actually a sexy little t-shirt dress, but works tucked into jeans or over leggings. (That's 3 outfits in 1 shirt!) The trench is waterproof and hooded, for any weather mishaps, but is also light enough to layer over anything. The Hunter Regent is a great equestrian style alternative to the usual Hunter boots you see around. Throw a pair of heels into your bag, and you're set for days.
What to Pack: Fun in the Sun Beach Vacation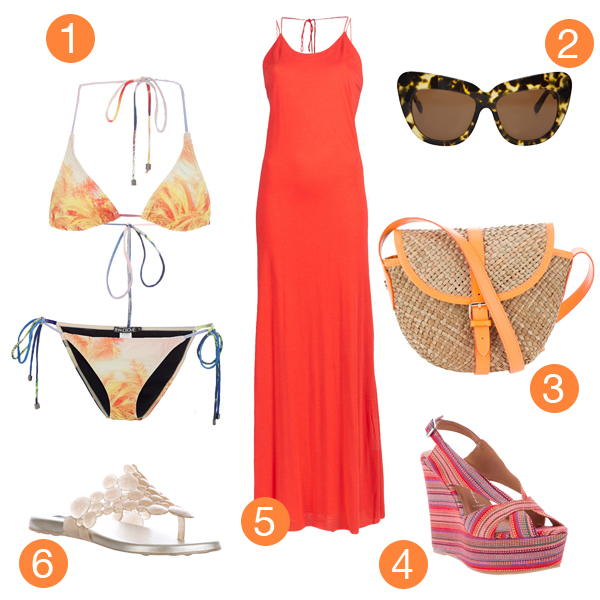 1. We Are Handsome Bikini $228
2. House of Harlow Sunglasses $138
3. Marc by Marc Jacobs Raffia Bag $194
4. Jeffrey Campbell Mariel $126
5. Townsen Lace-up Maxi $132
6. Melissa Bubble Sandal $74
Whenever I take a beach vacation, I make sure to pack a pretty wedge and a waterproof flip-flop that I wouldn't be ashamed to wear off the beach. I never pack a huge beach bag on vacation, since the resorts or beach rentals usually provide towels. The Marc by Marc Jacobs bag is a great shoulder to cross-body bag that fits the essentials. Just like at home, I live in maxi dresses while on a warm-weather trip; I love a bright color maxi like the one from Townsen above. The material keeps it casual enough for daytime and the lace-up back makes it a sexy choice for a night out. Throw in a pretty swimsuit (or two), a few more dress, and shades, and I'm ready for some salty air!
Top Photo: Glencoe Scotland by Chris Schoenbhom & Puerto Rico by Sasha with processing by Ms. Jenn
Bits of Beauty would like to thank Farfetch for the guest post and kind support.