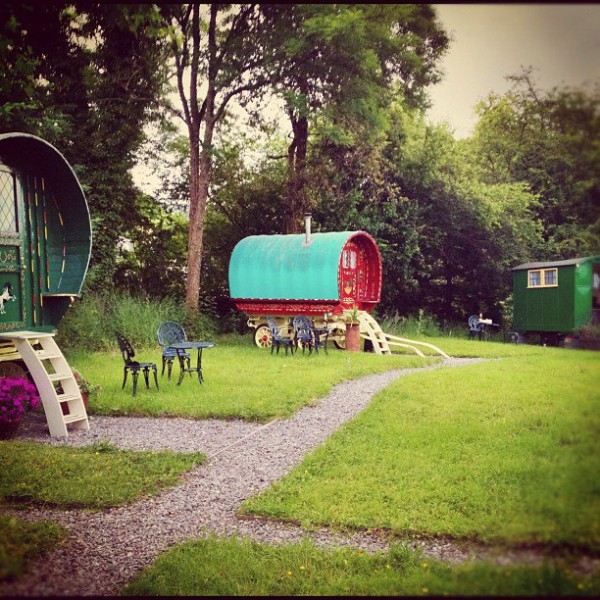 Last week, while in Scotland, my travelmates and I had the chance to do something I've been dying to try for ages. We went glamping!
This was my surprise to the group, as it was the one location I had kept completely secret from the girls and Aidan. After spending the day at Stirling Castle, I had to hunt around for where we were headed, as I'd forgotten to look up exact directions and it wasn't in our GPS. Oops! I figured we'd be able to spot it from the road; afterall how could you miss a grand old house with 3 gypsy caravans behind it? After driving around a bit, I realized we might have to ask for help, so I pulled into a road that had a sign for a coffeeshop and cottage. Didn't see any coffeeshop, but a nice Scotsmen did come out to help the lost Americans. (I swear, he must have been staring out his window waiting for a lost person to show up.)
After getting proper directions, we found the home, surrounded by trees, down a long driveway and through some pretty gates. Our host, Colin, welcomed us and gave us a tour of the home which had two buildings, one from the 16th century and the other an addition from the 18th century. Colin also brought us a gorgeous breakfast before we left in the morning of croissants, danishes, berries, bread, fresh eggs from his hens, and cereals.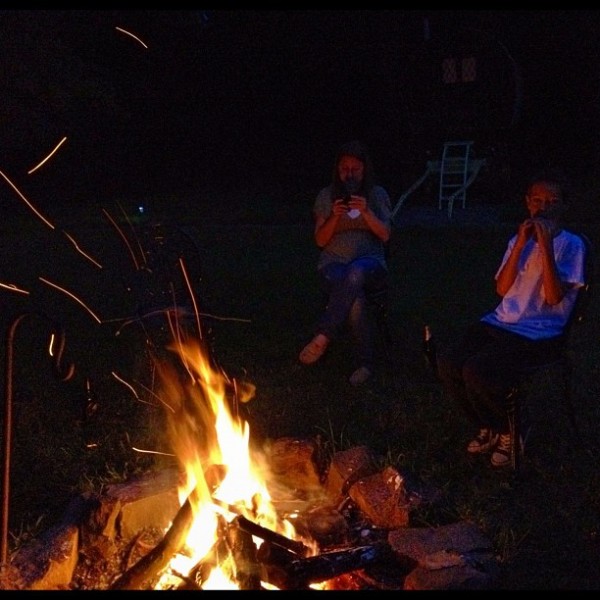 I'm not sure who was more excited, Cristela or Aidan. (Cristela's reaction was priceless.) Aidan was stoked to have his first real campfire, and I was happy to have been able to pull off such a happy surprise. We took full advantage of the late setting sun (10:30 p.m.) and stayed up making s'mores while sipping cider around the campfire (which Colin had to help us build because we Floridan's never really learn how to build a proper fire.)
Possibly the coolest place we've ever stayed, Bramble Bield provides 3 caravans to choose from. Our party was split between the Rowan, a cheerful red gypsy wagon, and Bramley, a hunter green wagon with bunk beds inside. There's a WC, shower, mini-kitchen, dining table, games, and books available a few yards from the wagons in "the Stable." We had everything we wanted, except more time. On our next visit we'll stay for a few days of magic.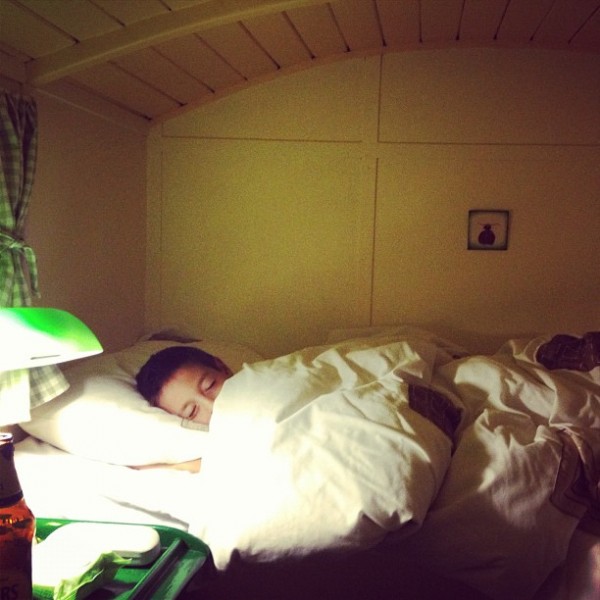 If glamping isn't your thing, check out the Powis House, the Georgian mansion cum B&B which Bramble Bield is located behind.
Going glamping? Grab a pair of Hunter Wellies, the perfect glamping boot, check out our sponsor's website.
Like this post? Follow me on instagram and twitter, too!