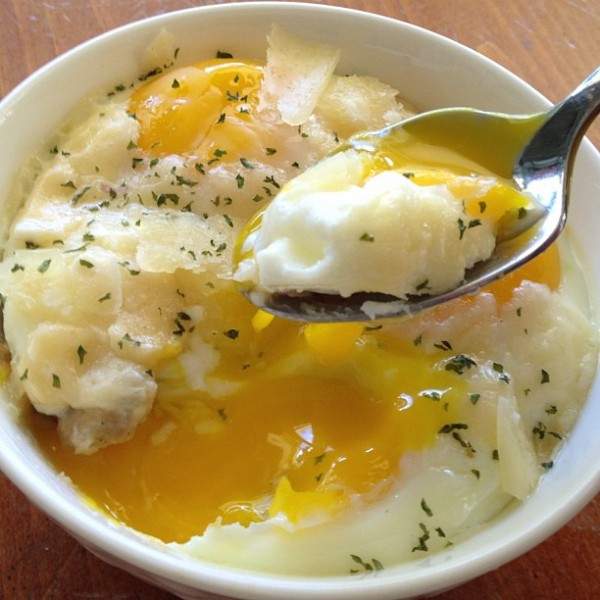 Bored with my "oatmeal or omelet" breakfast routine, I set out this week to find some more interesting breakfast options that would prove equally filling and healthy. After perusing the web and being bombarded by a variety of unhealthy or lackluster options, I stumbled upon this post. I instantly developed a craving for baked eggs.
Sunday morning, I'd pulled out all my ingredients for a scramble or omelet, but resolved that I'd make eggs en cocotte instead. I knew that a baked egg or two wouldn't be enough to keep me full, but I wanted to put a minimal amount of work into breakfast on a lazy Sunday morning. So, I took all the ingredients I had pulled out and combined them into one delicious and delightfully simple dish.
Eggs en Cocotte with Parmesan and Italian Chicken Sausage
Parmesan (shaved or thinly sliced)
3 room temperature eggs
Italian chicken sausage, fully cooked and diced
1/2 shallot, minced
English muffin
Extra virgin olive oil
Parsley (dried or minced)
Preheat oven to 350°. Toast half of the english muffin. Lightly oil a ramekin or small oven-safe bowl. Place the toasted half of the muffin into the bottom of the bowl, molding it to the shape of the container. Add a layer of chicken and shallot. Crack the 3 eggs over the chicken layer, being careful not to break the yolks. Top with a sprinkling of Parmesan shavings. Fill a baking pan or dish with 1 1/4 to 2 inches of hot water for a bain-marie. Place the bowl in pan and then set the pan into the oven. Bake until whites have set and yolk has begun to flatten out. Remove pan from oven and let cool for a few minutes while you toast the other half of the english muffin. (I use this half to dip into the yolks. Yum!) Remove bowl from water, garnish with parsley and Parmesan. Devour every last bit.
*For a lighter option, use two whites and one whole egg.
P.S. The best part is that you can prep all the ingredients the night before, throw it together in the morning, then get ready while the eggs are baking.
Photo: Ms. Jenn's Instagram