This is a continuing guest series by Ines, of the forthcoming blog Whisked & Whipped.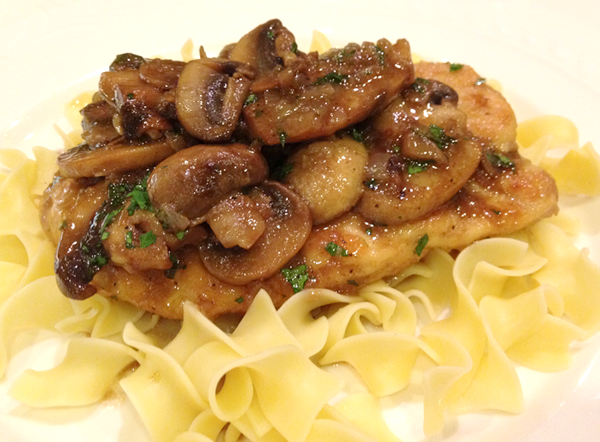 Valentine's Day is a day known for romance and indulgence. On one of my first Valentine's dates we went to a little Italian restaurant in Manhattan. So romantic. The food wonderful. So sweet! I fell in love…with the Chicken Marsala. I have been trying to capture the magic of my first time and have searched for a delicious, traditional, yet easy recipe. One that would showcase the true, unadultered taste of my sweet love: Marsala wine.
Imported Marsala wine is created from 3 grape varietals Cataratto, Grillo, and the highly aromatic Inzolia grape which are indigenous to Italy's sunny southern region. It comes in a few different style designations, however two are used for cooking this dish: Dolce (sweet) and Semi-secco (semi-sweet). I used Dolce. You also want to look for Fine or Superiore on the label this refers to aging time. Fine is aged about one year; Superiore has spent up to three years in oak.
Imported Marsala wine (like Columbo) has a deeper richer flavor and for the taste of a TRUE chicken Marsala it is a must.
Simple Chicken Marsala
4 chicken cutlets or 2 boneless breast split and pounded out
12 oz white button mushrooms
2 shallots finely chopped
1/4 cup of flour
1 1/2 cups of imported Marsala wine
3 tablespoons of olive oil, divided
3 1/2 tablespoons of butter
1/4 teaspoon of sea salt
1/4 teaspoon of garlic sea salt
1/4 teaspoon of black pepper
1/4 teaspoon of ground sage
1 tablespoon of finely chopped fresh italian parsley
Add flour to a shallow pan. Dredge chicken in flour and shake off excess.
Heat 2 tablespoons of olive oil in a pan on medium-high until oil is shimmering.
 Add chicken to pan and cook until golden brown on both sides, turning once approximately 4 minutes on each side. Transfer to plate. Keep warm.
 In the same pan, add remaining olive oil, 1 tablespoon of butter, and mushrooms. Sauté about 2 to 3 minutes. Lower to medium heat.
Add shallots combined salts, pepper and sage. Cook until shallots are translucent and mushrooms are browned.
Add Marsala wine and simmer until liquid is reduced by half.
Return chicken to pan. Reduce heat to low.
Stir in remaining butter, spooning sauce over chicken to coat. Add parsley and simmer for 3 to 4 minutes, turning once.
Serve over buttered noodles or rice pilaf with mushrooms and sauce over chicken. Enjoy!