In the month of November, I'm meditating on my gratitude for something different each day.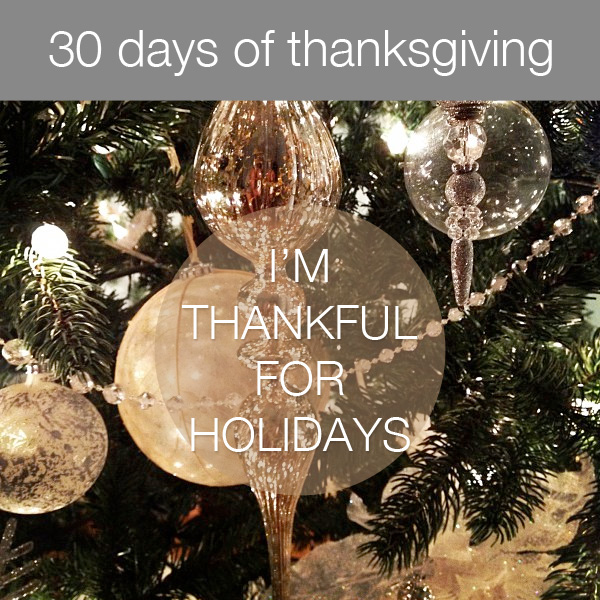 Thanksgiving already?! It's simultaneously exciting and frightening that it's already turkey day. It's a sort of halfway point between the start of what I consider "the holidays."
And, really, Is there a better time of year than the holidays? Pffft. No! (If you said yes, you should probably leave this post now.) For me, October through the new year is a magical time. It's full of creativity, family, friends, and traditions. If I'm lucky, it starts to cool down. This is the time of year where my entire family turns into a band of psychotic elves. You know those people who put up Christmas decorations on November 1st? Ya, we're those people and absolutely proud of it.
I'm thankful to have such a strong holiday tradition. For years, we've put up several trees and bedecked the house with wreaths, nutrcrackers, and oversized Christmas balls. I love it. I'm grateful that when I was a kid, my parents would rent a cherry picker to string lights up on the palm trees. I love that for a few years we had a real15 ft fir; one year it was so big that I was able to actually walk into the tree.
I'm thankful for well-wrapped presents with hand tied bows, tinsel, gingerbread cookies, Santa hats; my favorite Christmas movies like Elf, The Polar Express, and The Grinch; gatherings with family and friends; Noche Buena filled with lechon, congris, countless cousins, and piña colada; a month and a half of holiday songs; and the excitement I had as a kid waiting to hear reindeer on the roof and that I can now watch my own kid do the same.
As for today, Thanksgiving, I'm thankful that I have my family and friends to spend it with. My belly is full, and I'm off to decorate a tree.