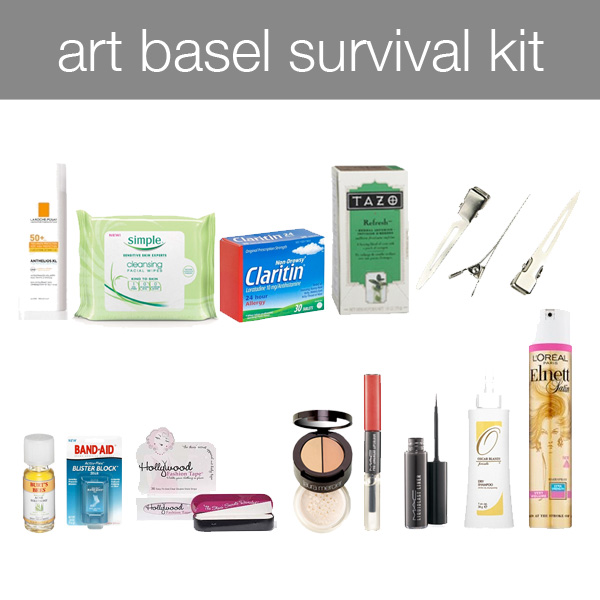 Six 12+ hour days of openings, parties, and work will exhaust you beyond words. Cameras going off everywhere, free champagne, and no time to eat properly? That's a recipe to look like a mess or get sick. Here are my secret weapons in a fool-proof survival kit.
La Roche-Posay Antihelios Sunscreen for the Miami son
Simple Wipes because you know you'll be way too tired to wash your makeup off
Claritin or any other antihistamine to depuff
Tazo Refresh tea to soothe the hangovers
Alligator clips for pin curls for easy hair styling while you sleep, sip coffee, work, etc.
Ellnett Very Volume Hairspray to fight the Miami humidity
Dry Shampoo because you know you'll be way too lazy to wash your hair after that secret party you went to last night
MAC Liquidlast for eyes that won't smudge
Mac Prolongwear which never comes off… ever!
Laura Mercier Undercover because under-eye circles are not cute
Fashion tape to prevent nip slips and all other manner of catastrophe
Blister stick to help your feet survive the running in heels
Burt's Bees Spot Treatment for the inevitable blemish you'll get
Got a secret weapon? What's your party-girl survival secret?